EBANX Payment Page
Product Overview
The EBANX Payment Page is one of our easiest and simpler integrations. It works with any kind of e-commerce, by seamlessly connecting with your shopping cart.
You pick which payments options will be shown at the checkout among more than 30 local payment methods.
When a customer picks one of the EBANX payment methods, it will be redirected to the external checkout where very quickly it can complete the payment.
Once the customer has completed all fields and successfully paid the order, it will be redirected back to your store.
Who is this for
EBANX Payment Page is the best option if you don't want to host your own check-out page. It's the quickest option to get your business up and running within LatAm.
How it works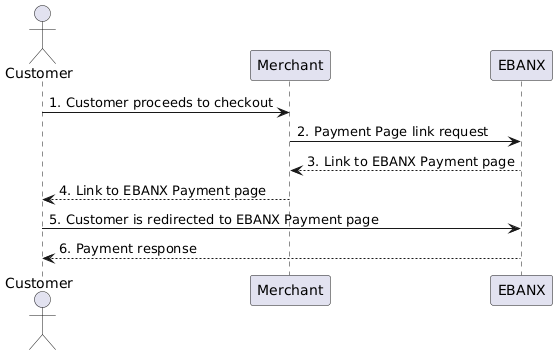 Customer proceeds to checkout in Merchant website;
Merchant requests Payment Page link through API;
EBANX Generates an URL to that specific payment and returns it to Merchant;
Merchant redirect customer to the link returned by EBANX;
Customer is redirected to EBANX Payment page to make his/her payment;
After the payment response, customer is redirected to the callback URL informed in the first request.
Available features and methods of payments
EBANX supports key payment methods within Latin America. With our Payment Page integration, you can offer any of the payment methods and features listed below.
Questions about this section?
If you have any questions about those payment methods or features, please please get in touch with our support team at [integration@ebanx.com].
Restrictions
Please note EBANX Payment Page does not support recurring payments via credit card tokenization.
Still have doubts?
We hope this article was enlightening, but in case we've failed to take out your doubts you have the following options to keep on seeking for answers:
If you're not our partner yet and would like to know more about our prices and conditions please fill ou this form and our comercial team will get in touch with you.
In case you're already our partner please get in touch with our support team at integration@ebanx.com.
What's next?